Disclaimer: I'm promoting the Humana Rock 'N' Roll San Antonio Marathon and 1/2 Marathon as part of being a BibRave Pro. Learn more about becoming a BibRave Pro (ambassador), and check out BibRave.com to find and write race reviews!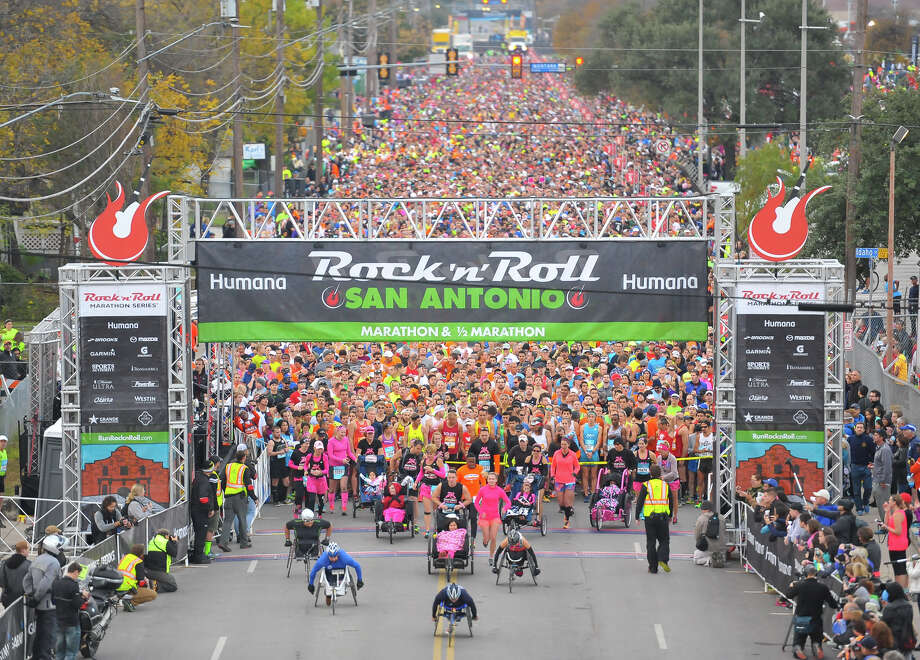 Some weeks are just more exciting than others. Race weeks are those kind of weeks.
This Saturday and Sunday, December 1st and 2nd the Humana Rock 'N' Roll San Antonio Marathon and Half Marathon will take place along the historic and beautiful streets of San Antonio and I hope you've chosen to be there. If you haven't you can actually still register on the Rock 'N' Roll website.
If you are still on the fence and need some extra convincing or if you will actually be there then you can look forward to forecasted race-time temperatures in the 60's on Saturdays and the 50's on Sunday. That is something I think none of us could complain about this time of year.
If you aren't able to spend much time in town during your visit then you will still be able to see things like The Alamo, the Riverwalk, Menger Hotel, and the Tower of the Americas as these important historical landmarks are on the marathon race course.

If you are able to spend a little more time in the city on your visit then there will be no shortage of things to see and do while you are there. Being the holiday season and the city's 300th anniversary there are lots of events going on. There really are too many to list all of them so I will highlight a few for you.

The Destino/Destination San Antonio Event – BRISCOE WESTERN ART MUSEUM, 210 W MARKET ST, 78205
Destino San Antonio presents, for the first time, selections from the Briscoe Museum's collection of over 600 stereographs of San Antonio, dating primarily from the 1860s to 1930. Inspired by the structure of the stereograph, which is composed of two images of the same scene taken from slightly different points of view, artist and guest curator Anne Wallace incorporates multiple perspectives on the image and identity of San Antonio during a time of profound transition after the Civil War and the final days of the "frontier." Through the integration of commentary, historical analysis, provocative juxtapositions, and playful inquiry, Wallace invites us to consider narratives that complete a whole. She invites us to engage with the past and consider the future of San Antonio.
This experiential exhibition will include:
• over eighty stereographs of San Antonio, accompanied by hand-held 3D viewers
• a replica arcade with period-style multiimage viewers
• maps, diaries, and city directories from the turn of the century
• video documentaries of personal accounts and interviews with scholars
• an immersive projection space, serving as a backdrop for exhibition programming
• hands-on activities through which visitors can respond to the imagery presented
Ford Fiesta De Las Luminarias – November 30 @ 6:00 pm – December 16 @ 12:00 am
Experience the holiday serenity of the River Walk as you stroll along the lush banks of the San Antonio River guided by more than 2,000 Luminarias at night. This century's old tradition begins at dusk Friday through Sunday only, November 30-December 2, December 7-9, and December 14-16. Luminarias are a traditional Mexican Christmas lantern originally consisting of a candle set in sand inside a small paper bag. Our River Walk Luminarias are a little different in that the flame doesn't go out. Enjoy the Holiday lights overhead, the luminarias along the banks of the river, and the Ford Holiday Boat Caroling floating by while you stroll or as you enjoy a frothy hot beverage or exquisite meal along the River Walk.
Rock 'n' Roll Health and Fitness Expo
The Expo's put on by Rock 'n' Roll Racing are really not to be missed. The best part is that they are free and open to the public. This expo features the latest in running technologies, fitness apparel, health & nutrition information and interactive displays.
Pick up some last-minute essentials before race day and be sure to visit the Brooks Official Merchandise Store. All runners must visit the expo to pick up their race number, gear bag and t-shirt.
Date: November 30 – December 1 , 2018
Location: The Henry B. Gonzalez Convention Center Halls 4A & 4B
Expo Hours:

Friday, November 30: 12:00pm – 7:00pm
Saturday, December 1: 9:00am – 5:00pm

Directions: For directions, please visit the Henry B. Gonzalez Convention Center website
Free and open to the public
If you make it to the race or any of the events listed above share your photos with me on social media!
Happy Racing!
Find Run Rock 'n' Roll on Social Media:
Twitter: @RunRocknRoll
IG: @runrocknroll